A NATIONAL ARCHAEOLOGICAL MUSEUM
in Arezzo, Tuscan art city that you can know in every detail with this website
English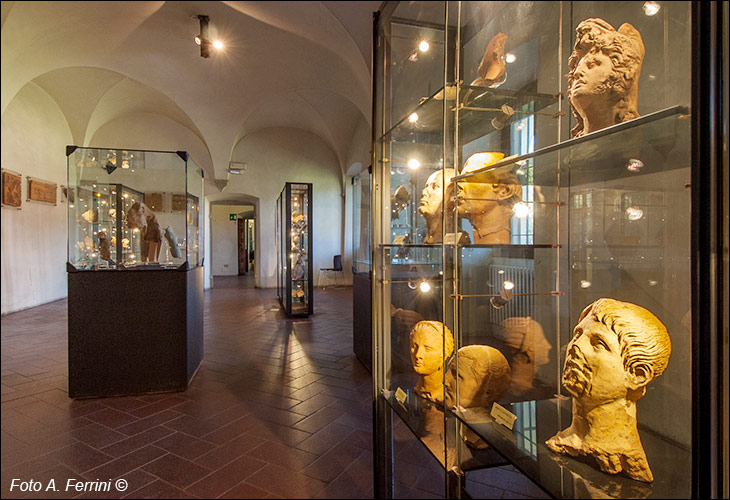 Texts and photos by Alessandro Ferrini ©
30 images in sequence of National Archaeological Museum of Arezzo. Click to enlarge
The ancient history of Arezzo through its archaeological museum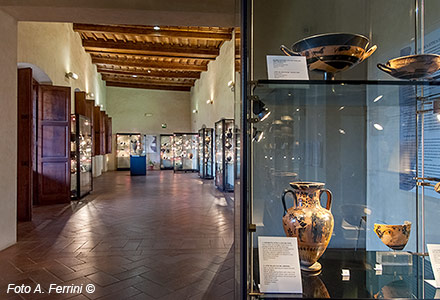 The National Archaeological Museum of Arezzo is located at number 10 Via Margaritone, near the train station. The Museum is dedicated to Gaio Cilnio Mecenate, an important figure of Etruscan origin born in Arezzo in 68 BC who was very influential in Roman politics because he was a friend and advisor to the Emperor Augustus. Mecenas was a very rich family patron. He was a supporter and financier of the activities of poets and artists, for this reason the term "mecenatismo".
The Arezzo Archaeological Museum has been located here since 1937. In that year it was set up in the former Monastery of St. Bernard built in the fourteenth century on a part of the perimeter of the Roman Amphitheater (2nd century AD), the most important testimony of Imperial Rome in Arezzo. An archaeological museum could not be born in a more suitable place, in fact, from the large porch of the former monastery you have a beautiful overall view of the remains of the amphitheater.
The history of Arezzo and its territory begins in the sixth century BC with the Etruscans, continues with the Romans and then with an important medieval period, so over the years there have certainly been many important archaeological finds. Precious material to set up this archaeological museum which is located on the two floors of the Monastery of St. Bernard and which occupies a total of 26 rooms. Therefore, for the quantity and value of the material on display, the museum is considered a very important exhibition.
At the end of a corridor that leads to the structure, the statue of Gaio Cilnio Maecenate welcomes us. On the first floor of the Archaeological Museum of Arezzo there are exhibits belonging to the Etruscan origins of the city (VI century BC). As far as the Etruscan period is concerned, we can admire valuable material such as jewels found in the necropolis of Poggio del Sole and a large polychrome decoration where are illustrated moments of combat from Piazza San Jacopo (about 480 BC). Certainly the "flagship" of this period is the Attic crater with Amazonomachia, a masterpiece of the ceramist Euphronios (510-500 BC). There is also much more material from various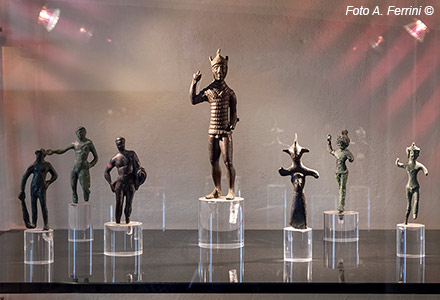 Etruscan sites in the territory of Arezzo, especially the Casentino, which has its own archaeological museum in Bibbiena, and from the Valdichiana.
Between the first century B.C. and the first century A.D. Arezzo was known throughout the Roman Empire for the creation of vases in "sealed earth". In the museum there is a large collection of them. Also with regard to the Roman period in the exhibition Arezzo are exposed sculptures, bronzes, mosaics, grave goods and other material from the nearby town of Puglia.
On the upper floor of the museum there are sections dedicated to paleontology, prehistory, the early Middle Ages, numismatics. There are also collections of precious metals, ceramics and bronzes donated by famous Arezzo families.
The thirty pages accompanying this section will show you what kind of environment you will encounter during your visit to the Archaeological Museum of Arezzo, made even more fascinating by its past as a monastery. You can also see a part of the precious material on display here.