The Church of Romena
in Casentino, a Tuscan valley with which you can get familiar in every detail through this site
English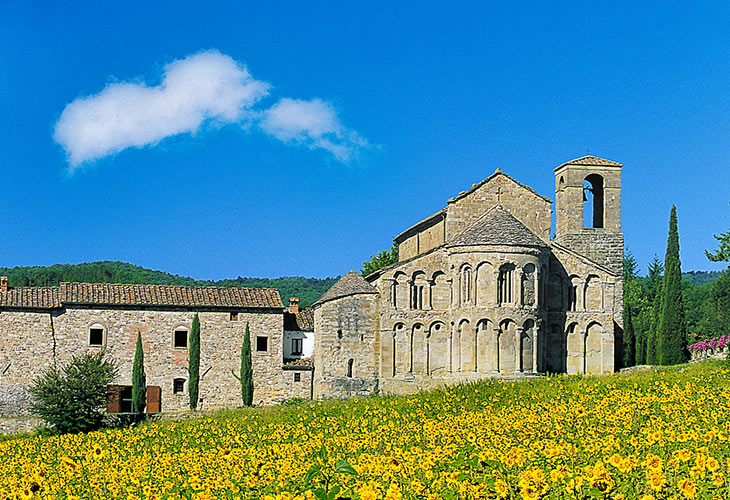 Texts and photos by Alessandro Ferrini ©
54 accurately described images of Pieve of Romena. Click to enlarge
PIEVE OF ROMENA, a National Monument in Tuscany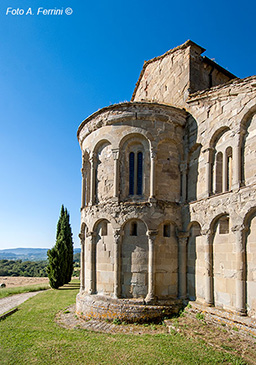 The splendid Church of Romena is located a couple of kilometers from Pratovecchio, on the southern slopes of the hill on which the homonymous Castle, mentioned by Dante in Canto XXX of Hell, is located. TEMPORE FAMIS MCLII (Time of Famine 1152). This writing is carved on the second capital of the left aisle of this Romanesque church dedicated to St. Peter and indicates the circumstance and year in which this church was built. Originally this capital was not the second because the facade and the first two arches of the building collapsed in 1678, due to an earthquake or a subsidence of the ground. Despite this mutilation, the Pieve of Romena is from the architectural point of view, together with the nearby Pieve of Gropina in Valdarno, one of the most important examples of Romanesque in Tuscany. In the Church of Romena this style is exalted and even the layman cannot fail to be fascinated by it. In the morning, blades of light enter from the mullioned windows of the apse and illuminate the rough but elegant capitals made by Lombard craftsmen. Capitals almost all different from each other and showing many motifs, from biblical to vegetable ones, from ferocious beasts to celestial angels and cherubs. The same Lombard workers in the years immediately following the construction of this church executed the capitals of the Pieve of Stia, Strada in Casentino and that of Montemignaio. The Pieve of San Pietro in Romena was built for the people (this is the meaning of parish) in the mid-twelfth century on a pre-existing religious building (probably from the eighth or ninth century) whose remains and some fragments are visible going down into the church through a staircase placed next to the right wall of the sacred building. Romena shows inside the classic Romanesque architecture with three naves divided by two rows of mighty monolithic cylindrical columns connected longitudinally by five arches, not seven as is usual for the collapse of the seventeenth century mentioned above. This shortening gives a fairly stocky appearance to the church. The presbytery area of the parish church is raised, this gives more volume and three-dimensionality inside. Until a few years ago, this church contained important medieval works of art. These are now preserved in the nearby church of Pratovecchio, however we can see them in detail in in this web section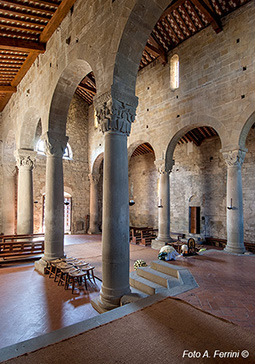 . The bell tower was originally much higher than what we can see today. This collapsed in the eighteenth century, the subsequent reconstruction of the belfry is evident. The most fascinating part of the Pieve of Romena, now declared a National Monument, is certainly its rear wall. Here is the splendid apse which, apart from a couple of capitals placed on the elegant columns and a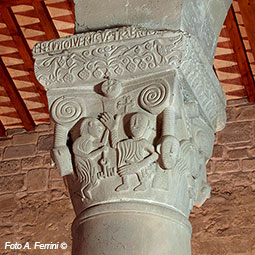 few small details made new during an important restoration carried out at the end of the 1960s, is shown in its original appearance. To the visitor who arrives from Pratovecchio or from the overlying Castle of Romena (it can also be reached by a detour on the Consuma road) it appears as a sculpture perfectly set in a classic Tuscan landscape, indeed, in the typical and enchanting Casentino landscape. Counting the small columns, single lancet windows and other classical architectural elements in the Romanesque style in this apse, we always find the biblical numbers seven and twelve. This extraordinary Romanesque church and the overhanging Castle of Romena (11th century) can be reached in about an hour from Florence along the road to the Passo della Consuma which begins to climb near Pontassieve.
The Romena Fraternity
The Church of Romena in Casentino is not only an extraordinary and fascinating Romanesque monument. It is also a place of faith, with a very particular and personal edge. A place where our body and our spirit try to find the right balance. Here are held meetings and thematic courses. People from all over Italy come to this church and the adjacent structures, even to meet only with a glance. This is why The Church of Romena is defined as a "Port of Land". All this is thanks to the
Fraternity of Romena
, founded in 1991 by Don Luigi Verdi. The images below make us fall into this reality perhaps better than a thousand words. Click to enlarge them.