THE CATHEDRAL: a beautiful example of Gothic
in Arezzo, Tuscan art city that you can know in every detail with this website
English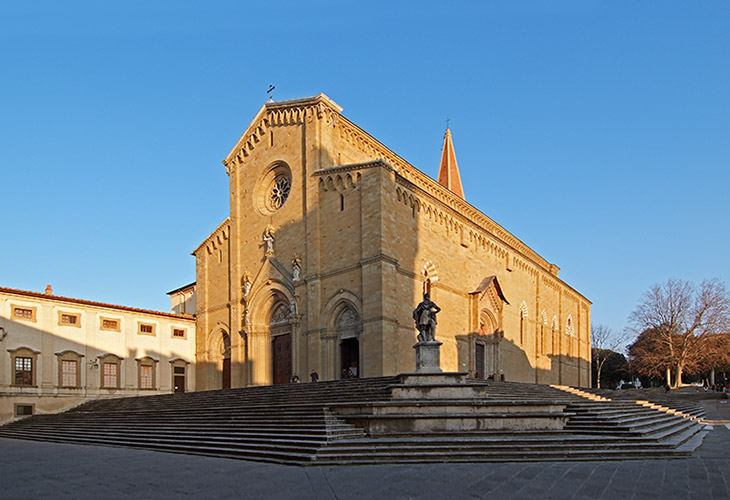 Texts and photos by Alessandro Ferrini ©
70 accurately described images of Duomo di Arezzo. Click to enlarge
The Arezzo Cathedral, a history of over eight hundred years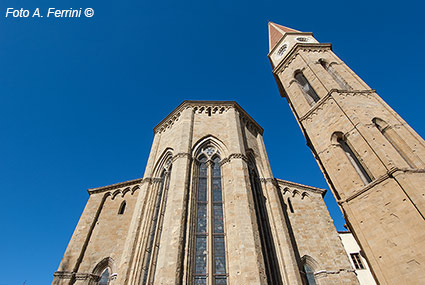 From anywhere you come to Arezzo (Casentino , Valdarno, Valdichiana) the view of the beautiful Tuscan city will be characterized by the presence, on the top of the hill where the oldest part of Arezzo is located, of its cathedral made even more evident by the Gothic style that the leap to the sky, especially its bell tower.
The Arezzo Cathedral is dedicated to San Donato who was bishop of the city in the fourth century (he is also its patron) and to St. Peter to whom was dedicated a pre-existing church at this point that was demolished to build the cathedral, a building that began in 1277 at the behest of the then Bishop Guglielmo of the Ubertini better known as Guglielmino.
A great ecclesiastical figure, but also a military commander. It was he who led the Ghibelline troops of Arezzo against the Guelph troops of Florence in the famous Battle of Campaldino of 11 June 1289. In this bloody battle William lost his life and his body was buried in the small church of Certomondo, a stone's throw from the plain of Campaldino near Poppi, built some thirty years earlier by the Counts Guidi in honor of St. Francis. The remains of the bishop have remained in Certomondo for over seven centuries. Today they returned to "his cathedral". His tomb, on the floor, is at the top of the left aisle (page 42 of this section).
Guglielmo degli Ubertini saw very little of that great cathedral whose construction lasted for more than two centuries, also because of several long interruptions. It was declared concluded (today it could be said "usable and usable") in 1511, but was not concluded. The beautiful stained glass windows by Guillaume De Marcillat are already a few years old. Various renovations have taken place over the centuries, substantial were also in the twentieth century. The Chapel of the Madonna del Conforto (the "second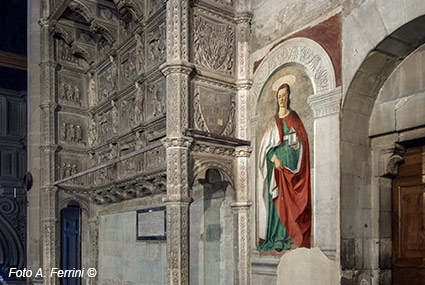 patron saint" of Arezzo after the miraculous event of 1796 and perhaps by the most heartfelt Arezzo of San Donato) was completed in 1823. The high bell tower with hexagonal section, detached from the building and placed to the right of the apse, was built in neo-Gothic style between 1857 and 1860. Its upper part, the drum and the spire, dates back to the 1930s. The facade of the cathedral, which remained unfinished until 1900, between this year and 1914, was completed in neo-Gothic style.
The second half of the thirteenth century, the period in which the Cathedral of Arezzo was begun, from the architectural point of view sees the gradual transition from squat and heavy Romanesque to the lightest and slenderest Gothic style. The cathedral of Arezzo is very affected by this and if in the initial project is still well present the idea of the Romanesque, with the passage of time and with the entering of the fourteenth century can not help but convert to the Gothic. The narrow and high windows on the south wall of the building are the most immediate and clear testimony to those who come to this church, then inside the three high naves divided by pillars and many other architectural elements confirm this style.
The architecture is the aspect that surely first strikes the visitor of the cathedral of Arezzo, but the building is of high interest also for other artistic aspects. Then let's not forget that we are in an important church and the spiritual religious aspects are not secondary. Marcillat's stained glass windows have already been mentioned, considered true masterpieces of art with their intense colours that become almost dazzling when backlit by the direct rays of the sun. The frescoed vaults of the central nave are considered to be of good artistic value, three by Marcillat himself and three, more than a century later, by Salvi Castellucci, an Arezzo painter of the 17th century. These paintings show biblical scenes. Because of the distance and the little light it is difficult to observe them, much better can be seen in the pages of this web section. Many other paintings of various periods and types embellish the Cathedral of Arezzo. In the Chapel of the Madonna del Conforto there are also beautiful terracottas by Della Robbia, in the baptistery are preserved several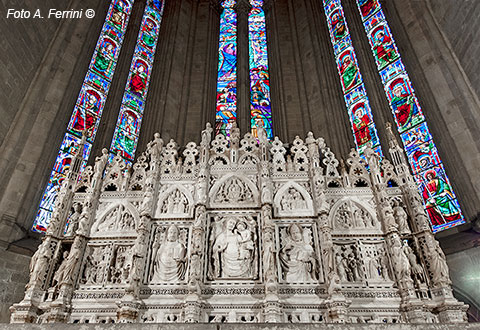 valuable paintings, among them stands out a Baptism of Christ by Giorgio Vasari. A work that is in the left aisle, next to the door of the sacristy, deserves a special mention: a beautiful fresco dated around 1460 by Piero della Francesca showing an elegant Mary Magdalene.
The sculptural works in the cathedral of Arezzo are also important. First of all, it is certainly worth mentioning the so-called "Ark of San Donato", a sort of large marble urn placed above the high altar made in the fourteenth century by more sculptors, Arezzo, Florence and Siena. Very interesting is also the great cenotaph of Bishop Guido Tarlati. Next to this, inserted in a niche in the base of the organ, there is an interesting polychrome wooden sculpture reproducing the Virgin and Child, dating back to the second half of the 13th century. The author is unknown, but certainly part of the circle of artists from Arezzo. There are several tombs in this church, these are certainly to be counted among the sculptures.
These works of art and several others you can see with the virtual visit that the pages of this web section allow you. But the Cathedral of Arezzo offers much more that you can discover with a physical visit to this place.