BURIANO BRIDGE, the point of union of three valleys
near Arezzo, Tuscan art city that you can know in every detail with this website
English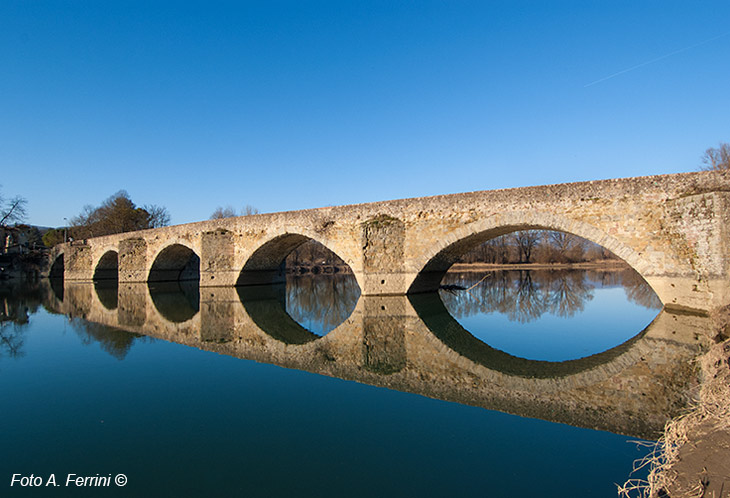 Texts and photos by Alessandro Ferrini ©
9 accurately described images of Buriano Bridge and La Penna Dam. Click to enlarge
THE BURIANO BRIDGE, a medieval monument on the Arno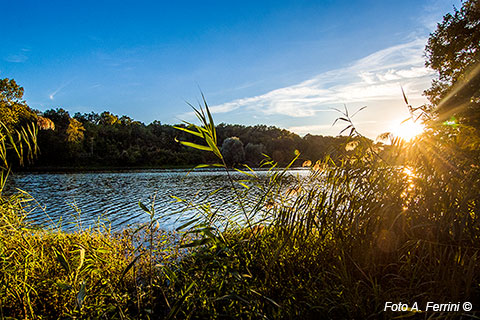 A few kilometers away from Arezzo, on the Setteponti road that leads to Castiglion Fibocchi and Loro Ciuffenna, we find the Buriano Bridge; it is a Medieval architectural work which is able to bear today's traffic, intense and heavy. But what catches the attention of those who watch it are not the large trucks crossing it, but instead its architectural structure: with its massive arches it almost looks like it is floating on the Arno, which is not deep in this tract, but very large due to the near Penna dam and because this area is quite flat.
The river tract that goes from the Buriano Bridge to the Penna dam (about 7 kilometers) constitutes the Buriano Bridge and Penna Natural Reserve.
Certainly, this wide water pool below the Buriano Bridge strongly affects the charm of this Medieval architectural work, which took almost forty years of work, from 1240 to 1277.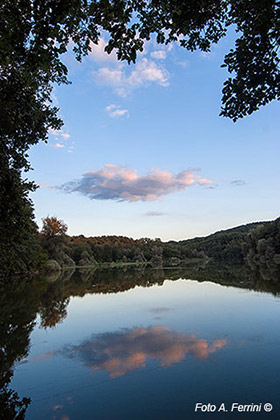 The Buriano Bridge can appear to be a "changing work of art" due to the variation of the sunlight orientation during the different times of the day. Personally, I describe it as "a poetry on the Arno" because, with the changing of the surrounding enviromental colors and the light that illuminates it from different directions the Buriano Bridge, which mirrors on the Arno, is able to always inspire different feelings and moods.
This "monument on the Arno", with its solid and massive six arch structure, has resisted to all the floods of the last 850 years; with its beauty, it was able to prevail the distructive fury of the war. At the end of the Second World War, while the Germans were retreating, they used to mine all the bridges that were to be found in their path. Facing an architectural work of such charm as the Buriano Bridge, they could not find the courage to blow it up.
The charm of both this bridge and the surrounding environment has always been remarkable. In the last few years, it has increased because of the hypothesis proposed by some scholars of Arezzo: the landscape with the arched bridge that Leonardo da Vinci painted behind his famous "Gioconda" or "Monnalisa" might be the Buriano Bridge one.
From a geographical point of view, I define Ponte Buriano as "the point of union of three valleys". The Casentino, the first valley bathed by the Arno, ends at this fascinating and powerful medieval architectural work. Beyond the bridge begins the Upper Valdarno. A few hundred meters from the structure, the Canale Maestro of the Val di Chiana flows into the river, a land of ancient history where there are beautiful villages such as Castiglion Fiorentino, Foiano, Monte San Savino, Lucignano, but above all Cortona.