Poppi
in Casentino, a Tuscan valley with which you can get familiar in every detail through this site
English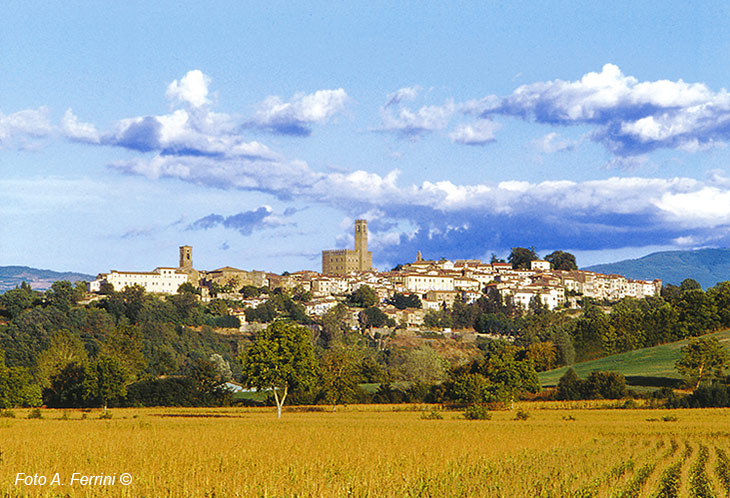 Texts and photos by Alessandro Ferrini ©
74 accurately described images of Poppi. Click to enlarge
Poppi, architectural jewel of Casentino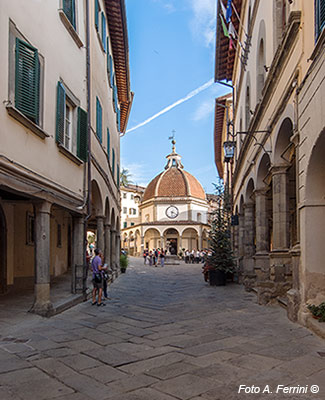 The medieval village of Poppi, located on the top of a hill, is unmistakeable for the presence of a great castle that dominates the whole ancient inhabited area and a good part of the Casentino. The town, which is still surrounded by its imposing walls, conveys a beautiful and interesting architectural harmony to the visitor, which makes its visit particularly pleasant. Poppi is considered the achitectural jewel of this Tuscan valley in the territory of Arezzo.
The Castle of the Counts Guidi surely is the most interesting element of Poppi. This building dates back to the 13th century and it is one of the most visited monuments in the Province of Arezzo. In this castle there are several things of particular interest: the Rilliana Library that stores 25.000 ancient books, the great feast hall, the high tower that offers incredible landscapes, and the chapel of the Counts Guidi decorated with 14th century frescos painted by Taddeo Gaddi (Giotto's apprentice).
The Abbey of San Fedele is another important tourist destination for Poppi. The church deserves to be admired for its 13th century architectural structure and for its fine works of art, most importantly for a Madonna and Child dating back to the end of the 13th century. Also the Church of the Saints Marco and Lorenzo and the Oratory of the Madonna del Morbo, an hexagonal plant building, are both interesting to be visited. As already mentioned, the whole historic town center deserves an accurate visit for the achitecture of its buildings, its villages characterised by porticoes, and its narrow alleys. Entering the town through Porta Fronzola, the "Torre dei Diavoli" captures our attention; its history linked to Countess Madelda's events makes it particularly suggestive.
Several folkloristic events take place in Poppi. The most interesting one surely is the "Gusto dei Guidi" , which is held every year in August. It is an event dedicated to Tuscan wine and food products form the Casentino. Visiting Poppi under this circumstance means being allowed to access to several fascinating spaces of ancient buildings as wine cellars and gardens.
From Poppi it is possible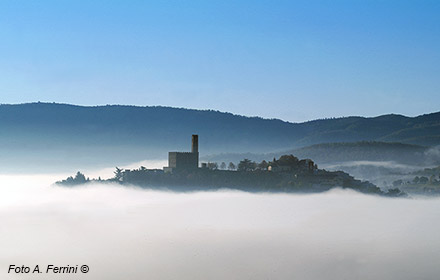 enjoying evocative panoramic glimpses on the whole valley of the Casentino. In the green countryside situated west of the town there is a nice golf course with a view over the town. At the foot of the hill where Poppi is located there is Ponte a Poppi: this name comes from the presence of a great bridge that crosses the river Arno. Here, the Church of Certomondo and the convent of the Capuchin Friars are both to be visited.
Also the whole territory of the municipality of Poppi, which extends from the slopes of the Pratomagno to the Appenine ridge, is of a great interest. Camaldoli, a well-known location as both a place of faith and a center of cultural and naturalistic interest, belongs to this territory. Near Camaldoli there is the ancient tourist station of Badia Prataglia, where it is needed paying a visit to the beautiful church with an extraordinary crypt that was once integral part of the ancient abbey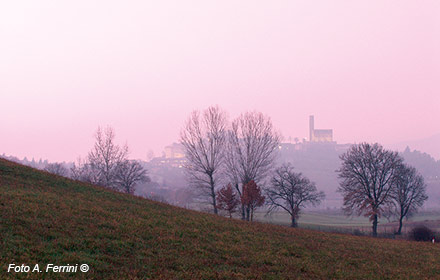 dating back to the end of the 10th century. Camaldoli, immersed in the Casentino Forests National Park www.ilbelcasentino.it/parco_foreste_casentinesi.html , is the starting point for many naturalistic excursions. On the street between Camaldoli and Poppi there is Moggiona: a town that untill some decades ago had been basing its economy on wood handicraft for centuries. Nowadays, this ancient "art", which mostly consisted in the handcrafting of small objects, is remembered by an ecomuseum located in this same area.
Lierna is another small village that needs to be visited: the ancient part of the town is of great interest, such as the beautiful small church (situated on the top of a staircase) in which nice 17th century works of art are preserved.
On the slope of the Pratomagno Massif we can find Quota: small and steep hamlets will lead us through the particularly interesting and well-finished architecture of this small village that deserves a visit. From Quota it starts the driveway that leads to the mountain ridge, geographical division between Casentino and Valdarno.