Capolona
in Casentino, a Tuscan valley with which you can get familiar in every detail through this site
English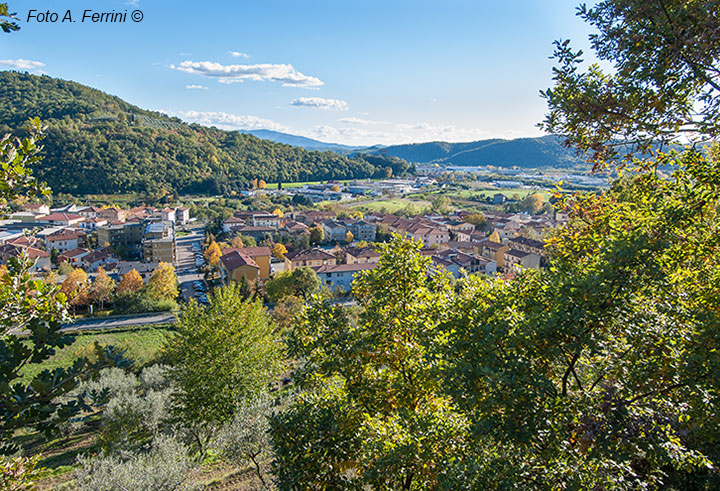 Texts and photos by Alessandro Ferrini ©
48 accurately described images of Capolona and its territory. Click to enlarge
Capolona and its territory's peculiarities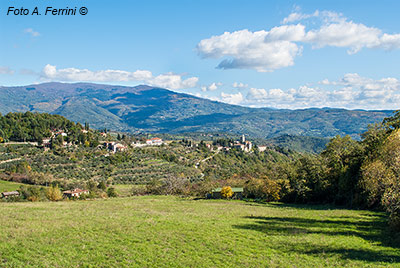 The town of Capolona and the territory of its municipality are situated on the right side of the Arno. It is a hilly area placed on the south slopes of Pratomagno, where these touch the aforementioned river of Dantesque memory. It is a very long strip of territory that in its northern area (Zenna, Lorenzano) is to be fully considered Casentino, while in its southern zone it is way more like the territory of Arezzo, due to its shape and its historical and cultural values.
Capolona is a modern town that developed around the footwear industry; afterwards, also the jewelry industry, nowadays reduced, gave a remarkable economic push to the place. The original nucleus of Capolona (old, but not ancient) is the area where the church of the town, dedicated to Saint Mary, is situated; it is around the corner from both the Arno and the entrance of the important bridge crossing the river. On the opposite bank live the inhabitants of Ponte Caliano and Castelnuovo, which are part of the Municipality of Subbiano.
Even though the town of Capolona does not have much to show from a historic, architectural and artistic point of view, it is a whole different story when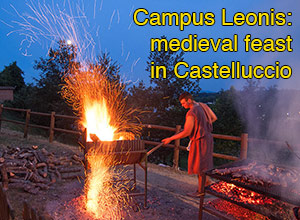 it comes to the territory of its municipality. About that, it is needed to remind that the word Capolona derives from Campoleone, form the latin Campus Leonis (Field of the Lion). Such a name couldn't identify anything but a strong and powerful area, both politically and economically. So it was indeed. What nowadays is the territory of the Municipality of Capolona corresponds to part of the properties of the great Abbey of Campoleone, founded in 972 near the current Castelluccio. This abbey had a glorious, but short, life. In fact, already at the beginning of the XIII century its power clashed with the territorial ambitions of the close Municipality of Arezzo, to which the abbey had to yield. Later on, in 1527, Campoleone experienced total destruction because of the imperial army led by Charles III, Duke of Bourbon.
Even if nowadays there is no sign left of the Abbey of Campoleone (except for an elegant resort that carries its name, situated in approximately the same area), there are several places and villages that testify to the historic and cultural importance of the territory of the Municipality of Capolona, also affected by the Langobards that lived in this area for many years.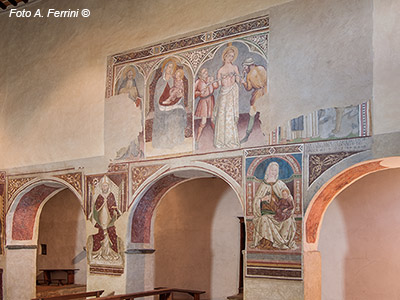 A church in Castelluccio dedicated to Saint Michael the Archangel and the Towers of Belfiore are the proof of the presence of this population here during the VII - VIII century.
The several parish churches deployed in such concentrated area are an additional proof of the importance of this territory. The primary one is the Parish Church of Sietina carachterised by a high tourist interest, followed by the Parish Church of San Giovanni situated in the village of the same name, the Parish Church of San Martino, and the Parish Church of Cenina.
This area, nearly hilly, is very interesting also form an agricultural point of view. This territory of the Municipality of Capolona could be called "the little Chianti of Casentino" because of the presence of many vineyards and olive groves that are at the origin of high quality wine and oil. Other small villages nestled between these cultivations, such as Casavecchia, Ponina, Cenina and Bibbiano, are to be visited. The last one of which is of particular interest because it is built on the remains of an ancient castle and the belfry of the current church was cunstructed on one of its towers.